With interest in African artists booming, Adora Mba opened ADA \ contemporary art gallery in Accra, Ghana in 2020 as a space to serve as an art incubator for the emerging artists from the African continent. Mba, an African art advisor and editor conveys optimism about Ghana's long term prospects regarding its art "I am confident that Ghana will grow to become the new art hub of Africa. Looking at the most prominent artists these days, many are from Ghana – the talent is clearly there and waiting on a much-anticipated attention". Mba points out that the art scene in Ghana is less developed despite the meteoric rise of artists such as Amoako Boafo whose painting The Lemon Bathing Suit (2019) was sold for $881,550 US at Phillips' Auction House' 20th Century & Contemporary Art Evening Sale in London in February, 2020.
Amoako Boafo (2019) The Lemon Bathing Suit.
Sam Gaskin, an arts and culture writer and editor, references the astronomical price that was offered for Amoako Boafo's The Lemon Bathing Suit (2019) and notes that the price eclipsed the estimate of US $38,700-$64,500 more than ten times over. He asks quizzically in his February, 2020 article "Who is Auction Sensation Amoako Boafo?". Gaskin comments on how "the result is especially surprising given Boafo's age—he's just 36—and because it's the first time his work has gone under the hammer. So who is Boafo, and why is he so keenly sought after?" 
 Amoako Boafo 
 Gaskin points out that the price paid for Boafo's work follows increasing interest in the market for work by black figurative artists and that Phillips Auction House  has repeatedly debuted young artists from Africa or of African descent in recent years, including Derek Fordjour, Nina Chanel Abney, Jordan Casteel, and Tschabalala Self. Gaskin also notes that Harlem-born Self's Princess (2017) obtained US $566,000 at the same sale. Phillips' auction house isn't the only major auction house progressively moving in that direction.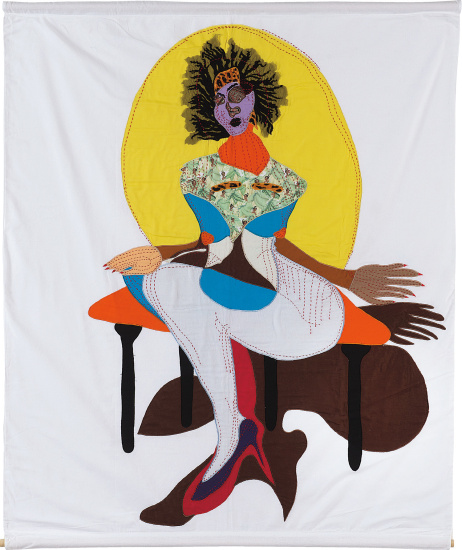 Tschabalala Self (2017) Princess.
Other auction houses include Christie's, Bonhams and Sotheby's. With long-established reputations and many high-profile sales, these houses are making place for contemporary African art in their catalogues; some already have dedicated departments of African art, while others are offering thematic sales featuring African artists.
Amoako Boafo (2019) Sleepy Lady.
Amoako Boafo 
exemplifies Mba's reference to the many creatives that leave Ghana to develop their careers in Europe or the US because of the lack of infrastructure support. Boafo was born in Accra, Ghana, in 1984 and lost his father at a young age. While his mother worked as a cook, he stayed home and taught himself how to paint.
Boafo never intended to be an artist; it was not an option.
"It's something that I wanted to do from the beginning, but in Ghana, we don't have the arts infrastructure," Boafo said. "You have to find those things yourself." 
Amoako Boafo (2019) Libby and D-Lee.
After a few years of supporting himself as a semipro lawn tennis player Boafo was given the chance to go to art school when an older man for whom his mother worked offered to pay his tuition. He graduated from Accra's Ghanatta College of Art and Design in 2008, taking home the Best Portrait Painter of the Year Award. In 2014, he moved to Vienna with Sunanda Mesquita, the Austrian artist who is now his wife, and pursued an MFA at Vienna's Academy of Fine Arts.  
Amoako Boafo (2019) A Red Rose.
Struggling to find his footing in Austria, Boafo began painting portraits of Black figures he met in Vienna's cultural demimonde with twisted torsos indebted to Vienna Secessionists like Egon Schiele who was a major figurative painter of the early 20th century. Schiele was a protégé of Gustav Klimt, who who was an Austrian symbolist painter, and one of the most prominent members of the Vienna Secession movement. 
Amoako Boafo, Self Portrait (2017)
Boafo's breakthrough came when he decided to ditch his brushes in favour of using his paint-dipped fingers to render his subjects' faces, creating a striking textural contrast. It did not take long for Austria's cognoscenti to take notice of Boafo awarding him the 2017 Walter Koschatzky Art Prize for works on paper by artists under 35. 
Amoako Boafo (2019) Missy May.
This is when his recognition and acclaim started. In 2019 Boafo won Austria's STRABAG Artaward International for artists under 40. Boafo is described as having developed a distinct style, using his fingertips to paint portraits of black men and women who, he says, "live their blackness". He explained to Culture Type "I find strength in—how they celebrate [and] live their blackness".
Amoako Boafo (2019) Seye.
After showing his art in Ghana and Austria, Boafo had his first show in the United States at Roberts Projects in Los Angeles in 2019, entitled I See Me. It is interesting to note that Boafo was recommended to the gallery by Kehinde Wiley, who found Boafo on Instagram. In December 2019, Chicago's Mariane Ibrahim's Gallery showed a solo exhibition of Boafo's paintings at Art Basel Miami Beach. The entire booth sold out with prices ranging from US $15,000-$45,000. During the fair, the City of Miami Beach inaugurated a new Legacy Purchase Program, acquiring Boafo's Cobalt Blue Earring (2019) from Mariane Ibrahim for US $44,000.
 Amoako Boafo (2019) Cobalt Blue Earring.
Amoako Boafo's works are currently displayed at the Mariane Ibrahim Gallery where his biography refers to the artist as a "notable young voice in art of the African Diaspora through his new approaches to the shaping of Black forms, and their dispositions in a larger global context."